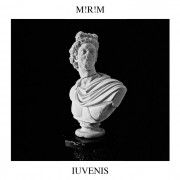 4 years after the release of debut album Heaven via Fabrika Records, M!R!M is back with "Iuvenis", a dark/pop LP with 14 new tracks smoothly sewn by the young London based Italian Jack Milwaukee.
"Iuvenis is the result of two years of writing in my bedroom" Jack says. Entirely written with analog and digital synths, vintage drum machines, blurry vocals and dark bass lines, Iuvenis is once again a DIY work.
The album is clearly influenced by the 80′s post-punk / synth pop scene (New Order, The Wake, Killing Joke); yet it differs from the previous album and follows the last work released such as the 7" Matilde / Velvet Dress and the dream pop experience matured with Leave The Planet.
The "StoryTelling" in Iuvenis is more obvious than before, the album takes the listener to a deep nostalgic obscurity where laying down and being cuddled gently by the solitude is a must, while the sealing gets pierced by soft dreams and impossible hopes to reach. "Iuvenis is a Latin Word which means young man, which I am" Jack says.