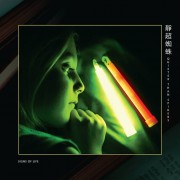 Quieter Than Spiders release their long-awaited debut album Signs of Life. The Chinese-Anglo band was formed in Shanghai in 2012 and has been quietly rising to prominence among the electronic music community with what the group self-styles as 'Shanghai Synthpop'. Online music magazine The Electricity Club included Quieter Than Spiders in a list of their favourite new artists and described them as "What OMD would sound like if they formed in the 21st Century".
Signs of Life was self-produced by the group and combines their contrasting styles of uptempo synthpop and slow reflective melancholy. The album features 10 tracks including familiar songs such as Hibakusha, Shanghai Metro, The Land of Lost Content and No Illusion. There are also 10 remixes by artists such as Kevin Komoda from Rational Youth, Vile Electrodes and The Silicon Scientist. Signs of Life also includes 8 mini interludes which the group describes as 'brief dream sequences'. Group member Leon Zhang said: "the album includes a slower and more experimental side to our music that people haven't yet heard from us, especially songs such as The Signs of Life and The Statues which are more personal and introverted."
The album was recorded in both Shanghai and the UK and was mastered in Germany by Stefan Bornhorst (aka The Silicon Scientist). The group did not use a formal recording space which gave them the opportunity to experiment. "We used minimal equipment which gave us the opportunity to record songs in a variety of places. We even recorded parts in an old deserted Shanghai building earmarked for demolition, and in an overgrown tunnel that we found deep in the English countryside".