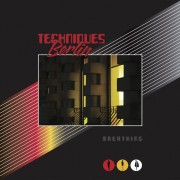 NADANNA proudly presents its new project, the Canadian synthpop act TECHNIQUES BERLIN! Formed in 1984 by high school buddies Andreas Gregor and David Rout, the band started experimenting with synthesizers, drum machines and guitars. In the early stages, TECHNIQUES BERLIN was heavily influenced by UK new romantic acts like Japan, Spandau Ballet, Visage, The Human League, Orchestral Manoeuvres in the Dark, Yazoo and Depeche Mode as well as rising Canadian synthpop bands Rational Youth (Dave become a member in 1998/99), Men Without Hats and Trans-X. It took them a few years to master their electronic toys and create a unique blend of addictive electropop melodies and beautifully crafted alternative beats.
In the late 80s, TECHNIQUES BERLIN played live on a regular basis and their 3 cassettes, released on their own Bombshelter label, received frequent local airplay in Canada. Despite their moderate success, the band failed to secure a record deal. A&R reps would comment that their songs were either too alternative to be classified as pop, or too pop to be alternative, which became rather discouraging in the long run. By late 1991, the band members had developed a strong interest in the burgeoning electro-industrial scene. Dave and Andreas had founded Bang Elektronika and were working with Digital Poodle as live drummers. Both of these projects were soon picked up by record labels. TECHNIQUES BERLIN played their last show at the University of Toronto in November of 1991, debuting the last track they had recorded, fittingly called "Time Fades to Nothing".
Now over two decades later, TECHNIQUES BERLIN is staging a remarkable comeback! Encouraged by the growing interest in the long out-of-print "Back Issue Volume 1 and 2" (now available on iTunes) and the highly sought-after compilation "Suburban Playgrounds and Concrete Beaches" (released by Fabrika Records on vinyl), Dave and Andreas have decided to bring TECHNIQUES BERLIN back to life. A series of shows in Toronto and Montreal saw the addition of keyboardist and backing vocalist Dina Naskos to the line-up. To celebrate the anniversary of the label that they founded, they included an unreleased track on the 7" EP, Future Past, on the Bombshelter Productions label.
Andreas, Dave and Dina have completed an album of brand new material, titled "Breathing". The set consist of the new album, as well as a previously unreleased material and alternate versions of tracks from the Bombshelter vaults. The 2CD version includes a bonus disc featuring remixes by the best of the minimal synth, electropop and Italo Disco scene!