Touch Sensitive Records: Vacant Heads – Self-titled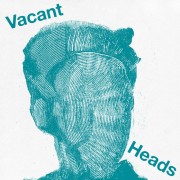 Vacant Heads is the duo of Christian Donaghey (Autumns) and Oliver Ho (Broken English Club). Anyone familiar with their work, or underground electronic music in the last two decades, probably needs no further introduction. Having worked together (Autumns' album 'Shortly After Nothing' was released on Oliver's 'Death and Leisure' label) and shared stages over the years – Vacant Heads was borne from a desire to both collaborate on tracks and form a live unit.
Their debut self-titled EP is a bold taster of where Vacant Heads are at and where Vacant Heads are headed. These four tracks reek of a brutal and busted city – after hours prowls with fuck all to do and nowhere to go.