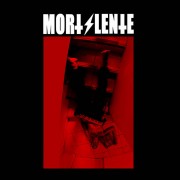 Distag present with joy the solo project of Eric from Futur Facile.
Lambeaux amers
Décomposition sonore
Plainte nocturne
Apnée du sommeil
Cérémonie d'un adieu aux vivants
Larsen chatouillant les tympans
Piquant comme des punaises de lit
Lancinant comme une longue agonie…
Recorded at La Cave in Reims. The song "J'écoute la nuit" if inspired by the book "Moins que rien" of Didier Durmarque.