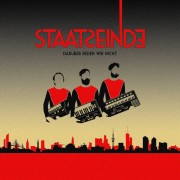 "From a galaxy far away, they came to earth and decided to stay".You could call them Visitors… but they might have arrived here long before we did.
Staatseinde spent their recent earth time creating their third EP called Darüber Reden Wir Nicht. Combining their own Neue Niederländische Welle with synthwave and EBM, these three extraterrestrial musicians adapted four European languages to spread their message.
First track on the A-side is Staatsanthem, a heroic soundtrack meant as a hymn to their home planet. Next up is title track Darüber Reden Wir Nicht, followed by No Return. Two bold, minimalistic EBM like tracks performed in a much harder style than they've ever done before. Moving to B-side. Laat Het Gebeuren warns about the selfdestructive nature of mankind, and sometimes mother earth answers. Grenztruppenführer is about the strict door policies that some nightclubs have, a wall between east and west, politics versus freedom, will you get in? Grenztruppenführer decides. Closing off with Vi Åker Dit, which started off as the Swedish translation of their hitsong Ruimtevaart Vooruit. A call to fly away, to another dimension.
Even though this EP was created on earth, it's already much spoken about beyond the boundaries of our solar system… and now it will find you.