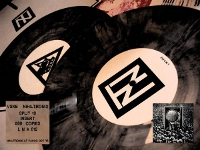 This album came out on La Nouvelle Alliance in October 2009. Nihiltronix is a solo project from the Paris area and the same artist is already well known for his previous act ICK under which he released 19 records between 1995 and 2007.
V.S.K.B. was an industrial Soviet project from the 60′s in Latvia near Riga that was conducted to do research, design and test of the new equipment produced for agriculture and agronomy. This project was closed in the 90′s and the kids that were born out of this experiment were left homeless, known as V.S.K.B., and now drawing memory lines in analog frequencies…
The Nihiltronix side kicks off with a slow, cold and demented minimal track. It gets a little more upbeat with the second and third tracks that both have an addictive drum beat that reminds of ICK. The last one is more industrial, heavy and hissing as hell.
These 4 songs are raw, dirty and distorted as a big ball of anger, tainted with a modern industrial doom sound. Not for the sensitive minds, it could lead to hate and revolt. Everytime I listen to the first track it pulls right into my guts and gets me gritting my teeth.
The V.S.K.B. side is an instrumental and mystical work. With space noise machines, it first starts with a melancholic atmosphere and it soon turns into repetitive and hissing sounds, reminding me of fever dreams. Not too harsh and still accessible, there are pleasant melodies and minimal rhythms, sprinkled with sounds from outer space. Based on the information from the inner sleeve, they are using esoteric Russian synthesizers.
The copy I got came in a pretty white and gray marble edition.