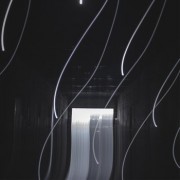 Holy Strays' new single for Atelier Ciseaux reveals a different side of the young producer's approach. Having privileged complex patterns and layers of drums and percussions on his debut EP 'Chasm' for Demand Vinyl last fall, 'Pathless March' x 'Seance' find the Paris-based musician experimenting with a more classical instrumentation, including guitar and piano, and more straight-forward structures revealing a growing desire to refine his sound.
After sharing stages with artists as diverse as Braids, Robedoor, Forest Swords and Lapalux, and remixing Dublin-based rising rapper Rejjie Snow and Canadian minimal rock outfit SUUNS within a few months, Sebastien Forrester (aka Holy Strays) seems to have been seeking for a balance between epic beat-driven tracks and subtle environmental soundscapes. This new attempt highlights his pursuit of a new kind of folkloric music that would reflect his own environment.
'Pathless March' and 'Seance' were born on a recent trip to southern Brittany. The 'visual single' that follows is based on the context the songs were created in, after a trip to the old submarine base in St Nazaire. From this very particular moment arose the idea to constitute a testimony and share it with the listener to create a common experience.