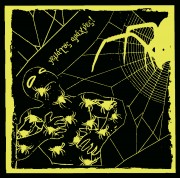 Τhe oddly named "(I'm) Full Of Spiders, Man!" is a 3 member horror synth-punk band from Athens, Greece, which emerged from the Greek underground scene seemingly out of nowhere on September 2019 as a desperate attempt of honest expression against a reality that has simply gone a bit too far.
They first appeared as a support act at the "Le Prince Harry" gig at "Ίδρυμα 2.14″ (Ιdryma 2.14) on October 2019 and at the same month they recorded and released their debut album on the independent punk label "Είσοδος Κινδύνου" (Eisodos Kindynou) on a limited run of tape cassettes.
In the old world, before the COVID 19 situation arose, the band managed to perform 5 times in total at different cities around Greece. This notorious band is one of an awkward geometry of both dark atmosphere and rad energy, maintaining a humorous approach on their criticism against all things the modern world stands for.