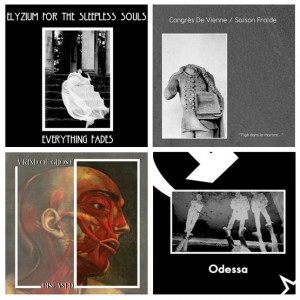 Back and happy to inform you about the availability of 4 new references, well-calibrated for the due pleasure of french cold-wave connoisseurs! Four phases towards the ice age:
Elyzium for the Sleepless Souls – Everything Fades LP
First "foreign" release by a surprising early 90′s duo from Luxemburg, so close to french vibrations.
Congrès de Vienne/Saison Froide – "Figé dans le marbre…" LP split
The so confidential but nonetheless mythic band finally on vinyl format, sharing the plate with Saison Froide, prolongating the myth.
A Kind of Ghost – Diseased LP
Throbbing, both rhythmic and dark, for all fans of sounds à la Lively Art, Mary Goes Round..
Odessa – s/t 7"
Two unreleased archives from 1983, dedicated to joyless disenchantment.
Each edition strictly limited to 300 copies.
More information / listening / ordering on our website.