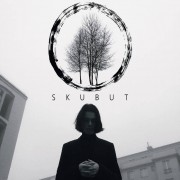 Active for about a year, Скубут [Skubut] is the 80s influenced Cold Wave / Post-Punk moniker of Russian young musician Mikhail Shlepin based in Vienna, Austria.
Cold, yet equally poignant, filled with dark, beautiful, aching sorrowfulness, ably blends the sharp, edgy iciness and minimalism ala Lebanon Hanover with the distinctive, intense melancholy and emotional turmoil of Russian 'doomer' bands.
First track "Акт самоубийства" deals with hidden obsessions that unravel in a suicidal fantasy realized alone in a bathroom with blood dripping down the walls, while someone knocks on the door, too late to help.
A seductively dark and penetrating spell exhales from the numb meander of the dense droning mists built by an ominous, rumbling bleak bass line, awash by looming, humming eddies of icy synth, whose persistent pulsating morbid obscurity is scratched by cascading slivers of trembling and ethereal, tinkling guitar reverberations, charged by crispy claps and quick muffled percussive patterns, drawing perpetual melancholic edges around morose, deep male vocals releasing shame, guilt, and pain into the nocturnal subconscious desires of an eternal, haunted peace, leaving us ultimately at the mercy of deafening silence.