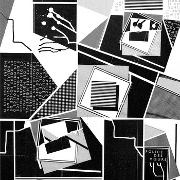 PDM is a synth pop band formed in Montreal in 2010 and they give the francophone perspective on what Black Marble, Lust For Youth, and Cold Showers did in English in 2012, as well as fitting in with the output of Lescop. Members are Francis, Anouk, Fred and Cristine.
Their debut full-length, after some quickly old out singles, is permeated by a cold, melodic and nostalgic music for broken hearts and dark minds. PDM is the soundtrack for the nuclear night, a transition moment between the end of utopia and the final ecological disaster. The world after the future.
PDM main influences and interests are underground aestheticisms (1979-1981), industrial transformations and the process of electrification, norms and deviance, nuclear and environmental anxiety as well as paranoia, secret agents, spies and political extremists.
Strongly recommended to fans of Rational Youth, New Order, Martin Dupont, Jacno, The Normal, Xeno & Oaklander.
LP on black vinyl
- Limited edition of 500 copies.