Tonn Recordings: Martial Canterel – Places We Think We Know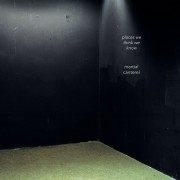 'Places We Think We Know' is a limited edition vinyl LP produced as part of Irish artist Mary McIntyre's eponymously titled exhibition at Dundee Contemporary Arts, 2021. The compositions in this album have been produced by Martial Canterel in response to Mary McIntyre's photographs and function as the audio component in McIntyre's exhibition.
For the exhibition, 'Places We Think We Know', DCA commissioned a body of photographic work, which sees McIntyre explore ideas of interior space, both physical and psychological. Accompanying these photographic works, McIntyre constructed a series of installations that intersect the gallery space in different ways to create bespoke environments from which to consider each image.
The exhibition at DCA debuted a new suite of modular synth compositions by Sean McBride of Martial Canterel, made in response to McIntyre's photographs. Within these new electronic compositions, unfolding connections between French Impressionism and cold analogue electronics are embedded with the augmented chords and harmonic structures of Ravel and Debussy.
As part of McIntyre's installations, Martial Canterel's music is audible in the gallery at different times of the day, further enriching the experience of moving through the exhibition and engaging with McIntyre's work.