Mecanica: Andi / Randolph & Mortimer – Torque Force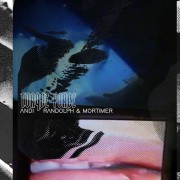 The concept behind this split 12" is simple. Two artists who are divided by the Atlantic Ocean but unified by a love of classic New Beat sounds. Andi, boss of the New York City-based Synthicide record label/club night and Aufnahme + Wiedergabe recording artist, combined forces with Sheffield's Industrialist and lover of underground Body Music, Randolph & Mortimer, to present their own interpretation to the unmistakable Belgian genre.
Thus, "Torque Force" was forged. A landscape where seedy neon-soaked city streets merge with the clang of hammers and of industry: Gotham versus The Steel City. Andi brings pure style with driving beats and rolling, lo-fi percussion overlaid by seriously funky basslines and ominous samples. Randolph & Mortimer delivers an unmistakable dancibility that forces the body to move —with intense, in-your-face synth lines and precise beats, there is no choice but to dance.
The four tracks on "Torque Force" are not just uber cool dancefloor killers, but could easily soundtrack a slew of 1980s dystopian cyber-sleaze movies. She must have violated the program…