BITE: SARIN – Moral Cleansing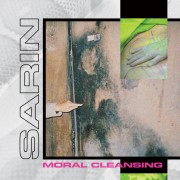 SARIN, the A/V industrial technoid electronics project of Emad Dabiri, releases his first ever full-length album Moral Cleansing on BITE. After debuting on the label last year with his Kuleshov Effect EP followed up by a collaborative 12" with Imperial Black Unit earlier this year, Dabiri advances his sonic identity by leaps and bounds through his application of subtle pop and electro elements with a greater focus on groove and melody, syncopated basslines, FM synthesis, and his signature cut-up sampling.
The album showcases SARIN's core elements as one of the main influencers in the current EBM techno wave with his brutally minimal sequences and abrasive drum programming. He began operating as SARIN in 2013 in Toronto before moving to Berlin in 2014. Since then he has been actively touring the world with his live performances & DJ sets. A remix 12″ of select tracks from the album done by Broken English Club, Privacy, Teste, and Phase Fatale will follow in 2020.