InClub Records: Antiflvx – Spirals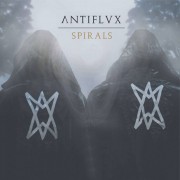 Antiflvx is a project from Colombia created by Leonardo Jaime (Circo del Luto, Resistor) with a sound perspective focused to the Coldwave subgenre, created circa Q4 2016. Its lyrics, certainly introspective, try to show personal positions regarding existential dilemmas that most human beings have always been asked theirselves for.
Camilo Alfonso in programming and synths, and Leonardo Jaime in vocals, leave us a hybrid sound that ranges from the most dense EBM to the most danceable synthpop cold, passing through minimalist and vocal atmospheres between guttural and romantic, an album that in a few years will be a cult, eye to the last remix that breaks any boring dance floor!