Gertrud Stein – Moonlandings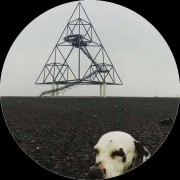 8 years after the first album, two 7″ from Kernkrach and a CDr self-released in 2016 with singles and tracks previously featured on compilations, Moonlandings is the latest long awaited album from Gertrud Stein, a solo act from London who's striking again with a self-released 4 tracks EP.
It kicks off with 2m2, a killer track rhythmed by synthetized percussions evoking whiplash sounds over a gritty bassline and a pulse that could drive people berserk on the dance floors. Monotonie carries on with the drive of tight analogue drums and a raw bass that is typical of her sound. On the B side, Sad Song is a throbbing slow track with more robotic rhythms and melancholic lyrics with spacey effects reminiscent of laments from beyond. Then Wires and Lights ends in beauty with another generous dose of lovely synth tunes and dissonant percussions. In its whole, the minimal groove and trippy synths that were assembled here should satisfy the cravings of any minimal electronics junkie.
The dark energy emerging from Moonlandings definitely seems to come from outer space. I was glad to find back the trademark sound of Gertrud Stein, but more importantly, I was very excited to find the same drive and madness that was pushed even further.