Cititrax: Marie Davidson – Adieux Au Dancefloor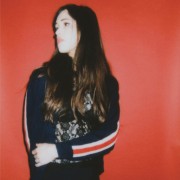 Cititrax is thrilled to present a full length LP entitled Adieux Au Dancefloor by Montreal based recording artist, Marie Davidson. Marie Davidson has emerged as one of the foremost electronic artists working in contemporary pop today. As a long-time member of Essaie Pas (DFA Records), Davidson has had the opportunity to hone her many talents. She has been participating in the city's vibrant experimental community for much of her adult life. However, in 2012 she began to unveil compositions under her own name, revealing a solo artist who possessed the combined confidence and vulnerability required to write, produce and perform unaccompanied. Davidson's intimate solo work is embodied through a host of synthesizers, sequencers and drum machines which coalesce in synchronized harmony, punctuated by vocals, half sung, half spoken in both French and English. She masterfully shapes the overall mood, themes, emotion, expression and intensity of her work, which gives the final result a distinctive, cinematic quality.
With Adieux Au Dancefloor, Marie makes a slight departure from her last two releases, via Holodeck (2015) and Weyrd Son (2014), by creating her first fully dancefloor oriented piece of work. Through the 45 minutes of music that comprises the album, she experiments with pop structures, defines her voice, and layers rhythms to make complex and beautiful techno tracks. She closes the album with the title track in classic Chanson style.