Domstica: Pola Tog – Rayogrammes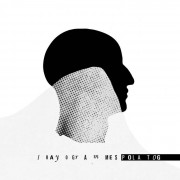 We're so excited to finally present you the debut album of Pola Tog, the musical moniker of Joaquín Urbina a Venezuelan audiovisual artist based in Barcelona.
Joaquín starts making electronic music in 1999. Influenced by the EBM, techno and electro-punk scene from the late 90′s he uses the newly bought MPC sampler to make his first tracks.
Around 2002 he begins producing cuts, remixing and playing live gigs under the name TBN202, in 2004 edits his first Ep vinyl "Fingernails" under his own label No-Domain Recordings.
After some years away from the machines and focusing on his professional graphic-videomaking work, Joaquín retakes music production in 2012 giving shape to his new project Pola Tog, an electronic new wave sound based fully on hardware synthesizers and drum machines flavored with electro-EBM-synth-pop-post-punk and automatic dada lyrics.
Joaquin collaborates with Slovenian visual artist Ana Gale, who translates Pola Tog's post-digital miscommunication tunes into a glitchy poetic visual language turning live shows into a crispy, cinematic and dark AV performance.
Edition of 100 cassettes presented in hand-stamped box.