Medical Records: Geneva Jacuzzi – Technophelia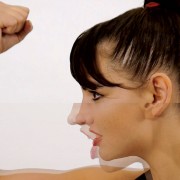 Medical Records releases the first full length LP in 5 years by LA's Geneva Jacuzzi. To say Jacuzzi is a multifaceted artist would be an understatement. She is well known for her uncompromisingly obtuse synth-driven pop and one-of-a-kind performance art that is comprised of one time only spectacles and installations.
Her works have been presented in famous art institutions such as the Museum of Contemporary Art, MOCA and numerous other venues across the globe. She has developed a very focused cult following in the art AND music scenes. She was originally well known for her multitude of self-released home recordings but also released a full length Lamaze in 2010 on the Vinyl International to much acclaim. Not to mention her track The Sleep Room featured on The Minimal Wave Tapes Vol 2.
Technophelia is the culmination of a hybrid of DIY and professional studio recordings (with the help of esteemed producer Chris Coady) that resulted in this exquisite album. Features the soon-to-be-hits I'm A TV and Cannibal Babies. Lovers of unique and left-field wave such as Gina X, Ronny, and the like will be transfixed by the raw, oozing newness of it all.