Medical Records: ((PRESSURES)) / Roladex – Split 7″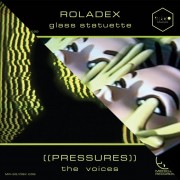 Medical Records in close collaboration with Disko Obscura Records presents a special split 7" showcasing 1 new track each by ((PRESSURES)) and Roladex.
((PRESSURES)) hails from New Orleans, LA. They craft their unique futuristic icy tracks on a museum's worth of analog synths and drum machines. This release follows their first LP on Disko Obscura entitled "Casting Shadows". Their contribution "The Voices" is a propulsive and dripping with synth textures track featuring vocoded vocals.
Roladex (a veteran of Medical Records already with their "Anthems For the Micro-Age" LP) hails from Seattle by way of Texas. Blending girl/boy vocals with catchy pop hooks drenched in a seductive melancholy, Roladex also uses a plethora of vintage gear. "Glass Statuette" is their new track for this 7" and features their signature sound with a bit of an evolution into Moroder-esque cascading arpeggios. Fans of both artists will surely want this in their collection. Features original artwork for the "double A side" on foldover insert style by both artwork that nicely complements the music contained therein. Pressed on high quality transparent yellow vinyl. Mastered by Martin Bowes at the Cage, UK.
Limited edition of 500 thick transparent yellow 7″ record.