Werkstatt Recordings: Midway Future – Kosmos EP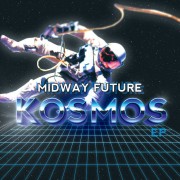 Music inspired by 80s made with love and care, just like your grandma's meals!
I'm an amateur musician, that used to play metal but turned to synthwave for salvation.
Limited edition cassette in white shell, comes in a transparent aqua case & a double-sided printed 2-panel j-card. CD comes in a deluxe blue case.