Seja Records: ImiAFan + Dario Seraval – Against The Walls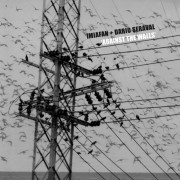 "Against The Walls" by ImiAFan + Dario Seraval is a stifling and melancholic minimal electro MLP with gothic influences build around lyrics from eastern Europe punk bands GRC, Berlinski Zid and the Slovenian poet Tomaž Šalamun.
ImiAFan did a lot of releases at different labels before and worked with greats like Adrian Smith (ClickClick), Makina Girgir, Charles Kent and others. The collaboration with the Slovenian Dario Seraval originated from his deep admiration for BORGHESIA, the band in which Dario Seraval takes the lead vocals on his behalf. A few years ago Dario contributed to ImiAFan's Neurozone album. It is this cooperation that developed and resulted in this minialbum.
Music composed by Imi Vegh, Miki Bernath and Dario Seraval. Vocals by Dario Seraval. Imi Vegh is known by his artist name ImiAFan. He contributed to the Seja sampler "A Visual And Auditory Reminder Of The Beauty Of Life" in co-operation with Adrian Smith (Click Click) with the song "Try One". Dario Seraval is known as member of the Slovenian EBM group Borghesia.