Mecanica: Equinoxious – Six Lo-fi Space Synth Themes Vol.1-2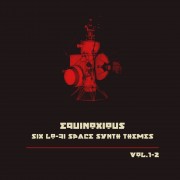 Equinoxious is the solo project of Rogelio Serrano, Mexican musician focused to synth wave, cold wave and space music. He works with analog synthesizers and get inspiration from 70s & 80s electronic music, science fiction, Soviet space program, Retrofuturism, etc.
"Lo-Fi Space Synth Themes" is a set of 12 (plus two bonus) improvisations and ideas inspired heavily by the Soviet space missions​​in the past century.
All music has been composed with Moog Mg 1, Korg MS 20, Korg Rhythm 55 & DOD FX90.