Domestica: Doric – So Far, So Near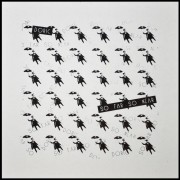 Doric is the alternate persona of the multitalented Stathis Leontiadis, mostly known as the one half of the Greek purists, Human Puppets. He is, without a doubt, one of the first Greek independant musicians in '00s, that treasured new wave synth music, using only hardware. Exactly as his ancestors. Being involved in various avant garde/new wave music projects since 1996, intrigued by the all analogue mentality of the late '70s – early '80s music field, he passionatelly commited to vintage synths and machines, creating a very distinctive and specific style and considered by many as "specialist".
His releases on Fabrika Records (a self-titled 7", followed by "Over Mentality"LP, 2013) gained excellent reviews and described as minimal electro perfectionism. This time, on this mini LP, Doric builts on his analogue rhythm box (the famous KR-55) a short story about alienation in six parts. All related and connected, these six songs describe a day of a daydreamer, forced to cope with routine and the vile, impersonal stage of socializing. This new age of "impersonalization" connecting with others but never quite communicating our wishes and wills, sums up to the title "So Far, So Near", a vast misinterprantion of other people's motives, as we are trapped inside our own havens; ourselves. This small personal nightmare, is synthesised with multilayered agility, using a MOOG ROGUE, a SEQUENTIAL CIRCUITS PRO ONE and the MACBETH MICROMAC-D. All this obsessive use of analogue equipment has only one purpose: delivering an accurate, minimal but not simple description of Life as a concrete, empty, business transaction, full of unique circuits and paths, noone sees.
Overall, this mini LP refers to temper/personality, as an inevitable hideaway of oneself, but yet impossible to maintain, as long as we are bound to norms that regulate superficial relationships. We are far but yet, so near.