Medical Records: Peine Perdue – Disparitions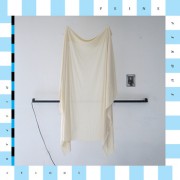 Medical Records returns to France (by way of Berlin) to present the first full length vinyl LP by contemporary artist Peine Perdue. Peine Perdue was born in 2010 from the meeting of Berlin-based artist and musician Stephane Argillet and Coco Gallo.
Peine Perdue finds its inspiration in a certain geometry, poetry and clearness in music and art such displayed by the cold abstractions of XVIIIth century harpsichordists (Couperin, Pancrace Royer etc) to the graceful minimalism of Erik Satie, the sugar uncluttered pop of the 60′s yéyé and finally to the arithmetic synthpop of the early 80′s. Among the artists and personalities that emulate their creativity are, among others, Delphine Seyrig, ESG, Elli & Jacno, Anna Akhmatova, William Onyeabor, Luisa Casati, André Cadere, Rainer Fassbinder or Robert Bresson. Construction, vertigo and symmetry with sensitivity but without sentimentality. Integrating the above references into a delicate mix with very personal and cinematic sensibility led by the obsessive sensuality of Coco's voice.
Previous releases have included a cassette on Vocoder Tapes in 2012 followed by a 6 track vinyl EP on Kernkrach Records (Germany). Their first full length was a CDR in 2014 on Cold Beats Records. They have toured extensively as well in Europe in between recording sessions. The material on this LP is comprised of all new material written in late 2014. Despite it's articulate minimalism, the tracks are very compulsive and lend themselves seamlessly to the dance floor as well as to the soundtrack to a dark late night rendezvous. Coco's vocals synergistically complements the fragile and perfect synth lines and beats. Standout tracks include "Surprise Partie", "Noyes", and "Cerceaux" though the entire record flows beautifully from track to track. This record will appeal to fans of the aforementioned legendary French synth pop acts and the like. Mastered by Martin Bowes at the Cage Studios, UK.
Presented on high-quality 180 grams heavyweight blue vinyl. Limited edition.