Dais Records: Youth Code- A Place To Stand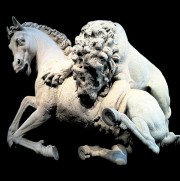 Youth Code's latest release, A Place To Stand, is an expression of rage that could only come from Los Angeles. Perfectly capturing the frustration and claustrophobia of the early 80s LA hardcore scene but re-appropriating that aggression and melding it to the strict, pounding electronics of classic industrial. Produced by Josh Eustis (Nine Inch Nails, Telefon Tel Aviv, Sons of Magdalene), Side A of A Place to Stand features four new Youth Code tracks that showcase the band exploring an evolved sense of melodic synth work and more varied tempos than anything they have released to date. From the pure adrenal rush of opening track, "Consumed By Guilt" and the Wax Trax-esque dance floor anthem "To Burn Your World" to the lush synthscape melodies of "For I Am Cursed" You can hear Ryan George and Sara Taylor perfectly balancing respect for their elders whilst creating something that's uniquely their own. Rounding out the Youth Code originals on Side A, "A Litany (A Place To Stand)" figuratively stands out, as it is a spoken-word diatribe on society that encapsulates the feeling of the entire record.
Side B of "A Place to Stand" collects four remixes of earlier Youth Code tracks, from artists as diverse as Corrections House's Sanford Parker, Sub Pop signed avant rap crew Clipping., industrial / EBM mainstays God Module & the dark and minimal techno mastermind, Silent Servant. What makes A Place to Stand exceptional is Youth Code's ability to coax raw, organic emotion out of cold, primitive synths. A trait that stems from the band's peculiar genesis.
Listen here and order here.