Cititrax: Silent Servant / Broken English Club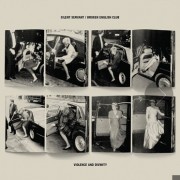 Cititrax is proud to present a 4 song split EP by Silent Servant and Broken English Club. Although the two are geographically very far apart, Silent Servant based in Los Angeles, US and Broken English Club based in London, UK, the two share a similar outlook and musical approach. Both projects have been on the rise lately, and stem from a strongly rooted techno background. Combining their influences of dance music, techno, EBM, industrial and post-punk, Silent Servant and Broken English Club offer a new breed of EBM infused techno wave on the Violence And Divinity EP. They artfully create music that works both on and off the dance floor, infusing a dark atmospheric mood with addictive, pulsating rhythms. Themes of love, death, modernity and automobile crashes appear throughout this EP from the music itself right through to the cover art and one of a kind vinyl pressing.
Limited edition vinyl pressing of 999 copies, first 500 copies are pressed on black inside milky clear vinyl, housed in a matte printed sleeve.