Atelier Ciseaux: Police Des Moeurs / Essaie Pas- Split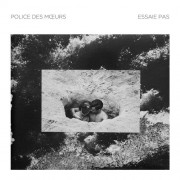 After their EP, Les mécanismes de la culpabilité, released in 2013, POLICE DES MOEURS is back on Atelier Ciseaux with a 33rpm flirt. A romance shared with fellow Montreal-based duet ESSAIE PAS (with Marie Davidson).
POLICE DES MOEURS plays cold, melodic and nostalgic music for broken hearts and dark minds. Police Des Moeurs is the soundtrack for the nuclear night, a transition moment between the end of utopia and the final ecological disaster. The world after the future. They released their debut LP, last year, on Mannequin Records.
ESSAIE PAS is a prism to the sensual world. Essaie Pas has troubled sleep. Essaie Pas is both a rift and a revelation. Essaie pas is our running blood. Essaie pas & The Acid-Melted Egos. Essaie Pas has released a really nice EP at the end of 2013, on Teenage Menopause and Malditos. ESSAIE PAS/ don't try.
A night in Montreal, a synth-pop dream. The urge not to see daylight again.