La Forme Lente: HNN- LÎle nue LP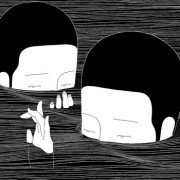 If Hsilgne Nekorb Ni (aka HNN) has only released one single album in 2011 (La Forme Lente) titled 'Pièce Radiophonique', and also a split 12″ together with Philippe Laurent released on Electric Voice Records (featuring Jeff & Jane Hudson), mastermind Gregg Anthe is not a new comer. For proof, look at the tracklisting of the remixes album of 'Pièce Radiophonique' : In Aeternam Vale, ADN'Ckrystall, Das Ding, In Trance 95, Kas Product or Bonjour Tristesse.
The gratefulness of his peers. Since 1995, he is active in Morthem Vlade Art and In Broken English with Yannick Dangin Leconte. The man with the sharp dark look is single-minded and run his HNN project with Emmanuelle Desmonts-Roudgé on the path of a synth-pop influenced by Kraftwerk and also by the great French minimal synth tradition enmbodied by Jacno. Here is his 2nd album 'L'Île Nue' with artwork signed by Moonassi.