Medical Records: llustration Sonore- Undisciplined Strips Of Emotions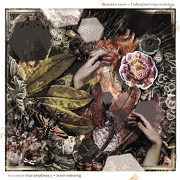 Medical Records presents the release of its first contemporary artist with the Paris-based Illustration Sonore (I/S). The duo, consisting of Dasz (also in Dolina and Ame De Boue) and Christina (aka Froe Char), expertly craft dark and atmospheric songs laced with unbridled passion in the context of synth-laden melodies, dominant percussion and pensive vocals.
I/S started in 2010 and have played many concerts in Belgium, France, Germany, and Italy. I/S uses variations of electricity to control oscillators and frequency modulations. Best described as synth-gaze, dark-wave, or no-future pop, I/S recorded this full length LP in 2013. The opening track "Ulysses," sets the mood with uncompromising intensity and passion with serious low frequency tones and catchy synth drenched hooks. The dreamy and brooding "Our Bodies" starts the B side and is a definite standout tracks. The wonderful and melancholy pop track "Flying Lights" is also included on the LP and was previously featured on the lovely compilation "Circuit D'Actes 3" on the French La Forme Lente imprint earlier this year. The relentlessly apocalyptic "Cannibals" is yet another magnificent track worth mentioning here.
For fans of EBM/synth-heavy industrial crossover, lovers of Cabaret Voltaire, Chris and Cosey, modern synth-wave and the like, these tracks will not disappoint. I/S has no fetishism for the old nor obsessions for the new, and they draw their inspiration in synth pop and surrealism.
Presented on high-quality 180gram ultra-clear heavyweight vinyl. Features bonus LP insert with lyrics. Front cover design by Temple Vengeance. Limited edition.