Makina Girgir- Torment
Limited to 400 hand numbered copies with screenprinted artwork,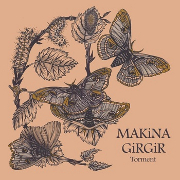 Torment is the long awaited first full length album from Makina Girgir that just came out on La Forme Lente.
Makina Girgir, also known as AratkiLo, is a solo project from Toulouse, France. In 2007, the debut EP The Spell was released on Das Drehmoment and other tracks also appeared on various compilations like Dance With Us! and Synthesize Me in 2007, Circuit d'Actes 2 in 2011 and The Future Echo Tapes in 2012.
Faithful to the original spirit, every song is mixing cold and spacey sounds with warm and haunting melodies. Often urging you to dance, robotic rhythms and piercing synth riffs are contrasting in sweet and seducing harmonies. Mechanical sequences are arranged with deep and spacious soundscapes in a way that won't leave anyone indifferent.
Female spoken words, processed through icy effects, are also making this record even more slick and sexy.
Definitely getting off the beaten paths, Torment has a modern edge that I found original and refreshing. Every listening got me totally absorbed with the head in the clouds, ironically taking me away from life's torments…