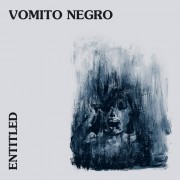 Vomito Negro is the mythical EBM-industrial act formed in Belgium in 1983. The band has a vast discography that started with a self-titled EP in 1985 and continued with diverse releases on renowned labels like KK Records, Antler-Subway and more recently on Out of Line and Scanner.
Vomito Negro's musical approach, essentially based on the European "Industrialist" tradition, takes a different angle on every record with synthesized psychodramas that range from danceable to contemplative, from instrumental and ambient to voice-ridden and brutal.
The new album "Entitled" was created with unreleased tracks from the early 80's. All songs were re-arranged and re-recorded with the use of original vintage hardware synthesizers, sequencers and drum machines.