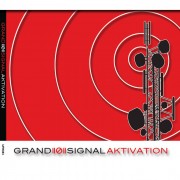 GRAND((Ø))SIGNAL is the new collaboration between Jacky Meurisse & Tcheleskov Ivanovitch. The name of the project was derived from their respective projects Signal Aout 42 and Grandchaos.
Both artists started composing music in the early 1980s when Belgium burst onto the scene and made waves with its signature drum machine and synth-driven music.
Jacky Meurisse has been a prolific artist and music producer throughout the eighties with his projects Le Park, Amnesia and Pleasure Game. Hits such as "Le Dormeur" and "Litchies" climbed English and French charts and remain popular club songs to this day.
Tcheleskov Ivanovitch, for his part, was a founding member of the cult Belgian indie act Ivanovitch DLO. In his solo projects, Tcheleskov has always displayed mightily muscled electronic music forefronted by powerful imagery.
The duo delivers his first release, Aktivation with a sound heavily influenced by their solo projects as well as current music styles. GRAND((Ø))SIGNAL is therefore tailor-made for dancefloors. It is destined to be appreciated by nightclubbers across the globe. The duo has already envisaged captivating live sets showcasing their performance talent and using a perfect blend of sound and imagery.