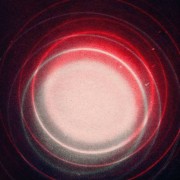 Ono Scream, the solo project of Apparaat – frontman Bart Willems (Anvers/Belgium), has one foot proudly in the past but with the other one he takes a step forward. He eagerly uses the sounds of the gloomy eighties. You'll hear references to his childhood heroes (Fad Gadget, early Simple Minds, Bauhaus …) which are glued to modern influences like The Soft Moon, the KVB and Tropic Of Cancer. But with a sharp, Ono Scream – like twist to them.
Ono Scream is Willems' very personal way of dealing with the past, while looking to the future. There is a light at the end of this tunnel. He's tried his hand at a myriad of musical styles, to wind up back at his true passion: synth-driven rock music, both old and new. With mesmerizing keys, pounding bass-loops, wintry voice and a sporadic feminine touch, he immerses the listener in a melancholy but also riveting world.
All songs resound with both the grandeur in a minor key and the anxious hope for the future of, say, The Cure, Siouxsie & The Banshees, Siglo XX and Killing Joke. Elsewhere we hear the fuzz of The Jesus & Mary Chain or the drones of Gary Numan. The familiarity of these retro sounds grabs you by the scruff of the neck and shows you exciting new places. This is true COLD WAVE somewhere in the darkest hole of human emotion between The Cure, Joy Division an early New Order.