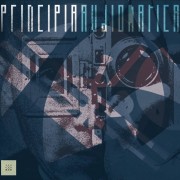 Miljenko Rajakovic aka Dj Mary (co-founder of Implant Code project on Minus Habens Records & electronic-industrial DJ in various European clubs, and only surviving member today of dark ambient project TeHÔM, and real oldschool electro side project Marythmetic) and Siniša Očuršćak (founder of the TeHÔM project on NER/World Serpent, Professor of philosophy at Jezuit University for Philosophy in Zagreb, editor of the book "The mind-body problem in contemporary philosophy") were active minds behind the PRINCIPIA AUDIOMATICA electronic experimental project. They were together creating frozen at parts lost, minimalistic electronic structures and soundscapes, they also have managed to infuse them with the mind-absorbing electro rhythms, thus creating 1st album which is a truly effective and impressive audio experience.
Unfortunately after "Systematic Sonority", their first CD album work 1995 for the Italian label Minus Habens Records. fate has chosen another path. Siniša died of cancer in the 1997. and much later on, after recovering from the tragic loss of his longtime friend and collaborator, Miljenko has reactivated Principia Audiomatica project in the year 2010 with some remixes and new tracks.
Beginning of 2012 PRINCIPIA AUDIOMATICA made a new remix for Die-6- spanish artist on his 1st Album with some other interesting international legendary electronic artists and acts like: Lagowski, Absolute Body Control, Esplendor Geometrico, Geistform, Plastic Noise Experience, HIV+…
In 2012-2104 Principia Audiomatica start working also on a new materials for incoming second album release in twenty years! This new release sounds like Kraftwerk, Clock DVA, Drexciya or early Anthony Rother.