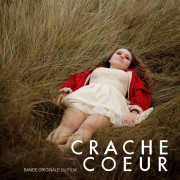 Dear wavers, a new friend label is born: DRAMES, will be dedicated to original soundtracks.
Here comes its first release, a vinyl LP for the movie CRACHE COEUR (eng: RAGING ROSE / pol: ZNAM KOGOŚ KTO CIĘ SZUKA) by Julia Kowalski.
The original music, made by her brother Daniel Kowalski (aka Dasz, aka Ame de Boue), is mainly electronic, sometimes with filtered guitars and/or voice.
The first side of the record offers a series of instrumental tracks with a lot of nostalgia, without hesitation to a few retro accents, inspired both by the genre cinema music of the late 70s and by the exacerbated romantism of the cold wave years.The second side is more eclectic and more rythmical, six dancefloor oriented tracks, with various influences like synth pop, dark electro or even black metal. The record however remains very coherent as a whole, this due precisely to what we cannot see here: the movie.
Last by not least, we have two additionnal tracks, one by Dolina, deeply cold, distant and aerial, and one by Villa Piégée, a kind of emo-future-pop hymn taken from the compilation "Palais Châlet" (2012 – Pneu records).
An intense and singular piece of synth music…