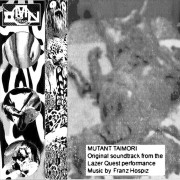 Sci-Fi industrial with organic rhythms and bad-tripping atmospheres. Franz Hospiz created most of those tracks in 2015 (plus some rework in 2016) for a multi-sensorial performance by Laser Quest gallery (Iris Veverka and Ulysse C. Müller).
The Mutant Taimori concept challenges the human body and its limits as well as its overtaking in transhumanism : What's after flesh? Is transhumanism a cannibalism? Is nature (and humanity) a constant mutation until self destruction? Is the only salute beyond this planet?
Here we are invited to celebrate this dystopia, or should we say this "end of race", with a special dinner. And this tape by Franz Hospiz is its musical accompagnement.
This tape is a collaboration with Cuss Fetish records.