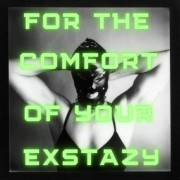 The extreme frustration explodes above the feeling that you are losing your time, and the time is an unknown field. Governments, internet trolls, and political fractions fighting for your attention… you work above your physical possibilities, but the jigsaw of money is still there in the universe of developed capitalism. In the meantime – on heavenly blue screens, you watch people with cosmic-sized budgets which they spread into the galaxian nebula of unknown to you pleasures. You sometimes feel such solitude that existentialism is only the beginning of thinking, you could scream it all out into the void but you're voiceless. Just your eyes are set to watch endlessly, they are set on autopilot mode.'
It's all for you – For the Comfort of your Exstazy – ''see it, say it, sorted'' – can't you see how easy it all has become?
The four tracks done just For the Comfort of your Exstazy – new wavy amalgamate of modern synth music sauteed in a techno sauce.