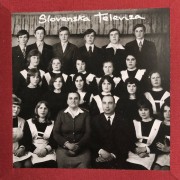 What if a group of young people had escaped the evacuation of Pripyat after the Chernobyl accident? Behind this idea, one can only find a bittersweet story in which, above the probable dramatic outcome, friendship and enthusiasm for life can be glimpsed. Everything is open in the end, it's better that way.
"Sunday Afternoons in Pripyat" is the new single from Slovenska Televiza, released by the Barcelona label Manufactured Desire Records. It is an ultra-limited edition of only 22 lathe-cut vinyl copies that, in addition to the main track, includes the instrumental "Micromegas" on side B.
Each cover has been made by hand in paper and binding cloth, designed by Wladyslaw Trejo in collaboration with the prestigious Ukrainian photographer Maxim Dondyuk. The cover image was rescued from the exclusion zone along with other photographs, postcards and family footage urgently abandoned by the disaster and exposed to weather and radiation for decades. Lost memories that Maxim Dondyuk tries to reconstruct in his "Untitled Project from Chernobyl".