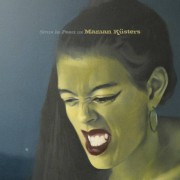 MAMAN KÜSTERS is a (French) duo from Brest (in Brittany) consisting of Gaël Loison (also in Dale Cooper Quartet & the Dictaphones) and Cyril Pansal (HF90 & PanMe). Cyril also collaborated via his HF90 project on the re-edition of Etienne Daho's 'Mythomane'.
Their first album "Sous la Peau de Maman Küsters" ("Under Maman Küster's Skin"), January 2016 (Unknown Pleasures), is scandalously rough and proud.
It features a plethora of instruments mistreated as though D.A.F. or Kraftwerk high on meth and plutonium had stuck their fingers in a socket and started messing around.
The album, a shocking mutation of Chernobyl radioactivity mixed with analog synthesis of Liaisons Dangereuses, Front 242 and DAF, is destined to achieve cult status in the alternative underworld. The brilliant phrasing and lyrics remind us of the pissed musings of Serge Gainsbourg and Alain Bashung.
This is a celebration of adventure, accident and the dark novel. It's a surprising, haunting exploration of talent and a madness underlying Dadaism. Without doubt, the finest French album of the year in this music genre.