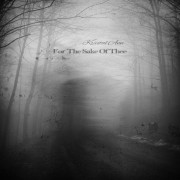 It is sorrow that makes us like frightened birds..
Like the gulls, who are looking for a coast to rest their weary wings ..
It is you , who do not forget and that makes you want to create ..
It is all the world around , like the mountaintop stream..
It is the sunset that leaves long strands of silver..
What we said at dawn were words of heart ..
watching the darkness disappear and the sun rises on the horizon..
in the distance that separates us ..
Kriistal Ann
Edition of 24. Comes in a double-sided printed gatefold case.