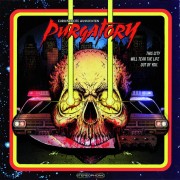 "Purgatory" is the new Europaweite Aussichten album I was working on since early 2015. The whole process of making the music was totally different compared to the work on my previous record "Welcome To Paradise". This time I tried to compose a score for a movie that doesn't exist. I had a story in my mind and composed different pieces of music for different scenes. Sometimes they became really huge and dramatic as you can hear on tracks like "Psychopath" or "Season of the Skull". But here and there I needed something more dark and atmospheric. Tracks like "The Visitor" or "Sundown" are all about creating a scary atmosphere.
All music was recorded on an old BASF tape from the mid-80′s to give the album a slightly filthier sound.
I hope you'll enjoy this journey through the meanest city on earth: Purgatory.
Limited edition of 25 tapes professionally duplicated glass master 2xcd in overwrap, comes in a jewel case.