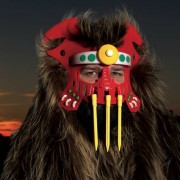 Captain Mustache is a French music producer and DJ from Paris. He's been working on his project for many years to propose an army of beats. As a true electronic music lover, he worked with some electro idols (Adamski, Chicks on Speed, The Advent, Paris The Black Fu, Play Paul…) to bring an extra vocal dimension to his music.
Inspired by 80′s pioneers, Detroit techno and electroclash freaks, we can define his sound as romantic & burlesque electro.
Be sure, Mustache is the future.