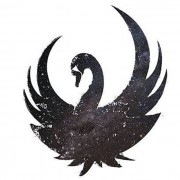 Some months after the split of Adan & Ilse, now we are happy and proud to present 'le Chant Du Cygne Noir' A★I, on Unknown Pleasures Records!
A★I is the newest alias for franco spanish artist Pedro Peñas Robles with discreet and not very well-known electronica producer Phllox.
As DJ Pedro started out as a teenager by Djing and organising dark underground parties on different clubs of south of France. As musician he produced many albums (industrial act HIV+) and a number of tracks, remixes and side projects (Adan & Ilse, Ushersan & HIV+, Sensory Mindfields, H.U.H…).
Mixing elements as disparate as modern synth pop, electronica, hypnotising synths, driving beats, dirty distortions, vocals and cinematic soundscapes, this debut album is innovative, dark but pop. What maybe can be described as 'alternative modern synth pop music' unfolds in different nuances with overdriving climax.