DKA Records: David J Bull – Body & Beat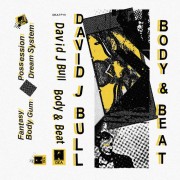 David J Bull is a Cardiff based DJ and producer. He has been a key player in the Welsh underground scene for the last 10 years co-running the TEAK and Studio 89 parties which have gained a cult following over the years. As a DJ, David has honed his sets around his obsession with rough and ready 80s electronic music mixed with contemporary sounds that also tap into this nostalgia – in particular the sounds of industrial, new wave, synth pop and new beat.
For his debut EP 'Body & Beat', David nods in particular towards the New Beat sounds that emerged and vanished between '88-'90. Tapping into the brash production style and old school cut and paste sampling, this EP takes inspiration from artists like Fatal Error and Shakti. David pulls together a collage of sound sources and mixes it in with FM synths, bass guitar and Cheetah drum samples (a budget drum machine made in Cardiff back in the 80s) – the result is a dark and somewhat wacky electronic record ready for an alternative dancefloor.