DKA Records: Lower Tar – Abstract Parasite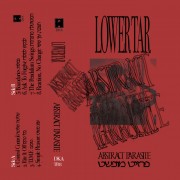 Lower Tar is the experimental techno project of Los Angeles-based musician and visual artist, Ori Ofir. Formed in 2016, Lower Tar has released albums on Ascetic House, Ecstatic Recordings, and Night Gaunt Recordings. Ori has collaborated with Silent Servant on a duo project called Sterile Hand. Ori also co-runs the party/label L.A.U.R.A. as a new avenue that focuses on bringing the Los Angeles electronic community together. As an Israeli-American of Arabic descent, Lower Tar is a project that explores the complex power structures that revolve around identity and what it means to be critical of a society while still maintaining a sense of self.
"Abstract Parasite" is Lower Tar's debut for DKA. Recorded between 2018-2020, it combines 8 tracks of Ofir's mix of hard hitting EBM, industrial, and spaced out electro. Inspired by the works of Mark Fisher, each track explores the systems that hold us back while trying to envision a way to rupture this omnipresent hold and cyclical complacency.