Bureau B: Die Wilde Jagd: Bureau B Favorites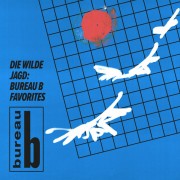 Compiled by Die Wilde Jagd for Bureau B.
Bureau B (sometimes quoted as Bureau-B) is an independent record label, music publisher and booking agency from Hamburg, Germany, founded in 2005 by Gunther Buskies (B for Buskies) as a sister label to Tapete Records. The label releases varieties of electronic, free-spirited music, with the spectrum ranging from pop to avant-garde. The label has amassed an extensive catalogue of reissues and new productions, including classics from the genre of electronic music in the 1970s and early 1980s popularly classified as Krautrock (Cluster, Roedelius, Moebius, Plank, Schnitzler), alongside new recordings by such formative artists as Faust, Kreidler , Roedelius, Tietchens, Moebius.