DKA Records: Balloon Boy – Self-titled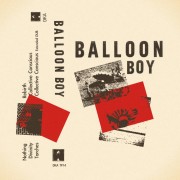 Balloon Boy is the New Orleans-based duo of vocalist Nannen Gatchell and instrumentalist Kelby Clark. Nannen and Kelby played together in the post-punk group Smiler, and Kelby also performs under the names Divorce Ring and Material Body (both projects had tracks on DKA Tape Programme Vol. II). Inspired by the post-punk and DIY pop music movements of the 70's and 80's, they take a live and direct approach to recording by tracking straight to tape using an assemblage of primitive analog instruments.
Balloon Boy was born while the duo were living in Valdosta, Ga. The project was put on hiatus after the instrumentals for their self-titled debut EP were lost in early 2016. The recordings were found after four years and a relocation to New Orleans. The lyrics for the material were then rewritten and recorded during the Spring of 2020. Musically the aesthetic and strong song writing sensibility of minimal synth projects like Kitchen & the Plastic Spoons, Absolute Body Control, and Crash Course in Science is on display. While Nannen's vocals evoke classic goth vocalists like Siouxsie, Dinah Cancer, and Jeanette Landray of the Glove. DKA is so excited to release Balloon Boy's debut cassette containing six songs and one dub mix. We look forward to future projects & releases from Nannen and Kelby!