Unknown Pleasures Records: Electronic Manifesto 2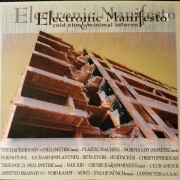 After the success of the first double CD compilation "Electronic Manifesto" (published in 1000 copies in Spain by Caustic Records in February 2007) I was super motivated to continue this work as curator, so I continued to select exclusive tracks, rare and unpublished remixes, and I contacted the artists present on this second volume (produced by me in September 2007 for the Marseille label Divine Comedy Records).
Small anecdote, I financed the totality of the pressing (1000 copies) but the owner of the label who had to take care of the administrative part "forgot" to declare at the time the cover of Grauzone to Sacem, consequently he had to pay a fine and this is the reason why I left this label in 2007, arguing with him for good following this incident.
Despite this episode, this compilation received great reviews and still sounds "modern" 13 years after its release. An electronic masterpiece that bears witness to the Minimal Wave of the first decade.
Digital Album [free download]