Seja Records: Sing Me Something Sinister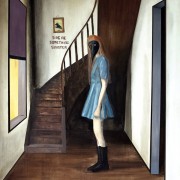 "SING ME SOMETHING SINISTER" is like a cinematic sound document from outer space. This compilation listens like a dark fairytale with a bright side where you can dance to. A story that starts with The White Container, in which desire and disappointment fight for priority. A theme that applies to the continuation of this album.
"SING ME SOMETHING SINISTER" is a musical document of desire, intrigue, aliens, unforeseen events and dark rituals. It takes us to the depths of the soul and beyond.
The atmosphere of this album has been masterfully translated by artist Mo Arab, with his painting 'Domina Corvus'.