Clan Destine Records: Life Ist Krieg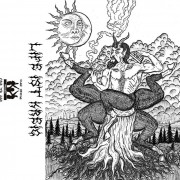 To celebrate 10 years ov Clan Destine Records we have gathered together 42 ov our favourite artists at the moment for a behomoth compilation LIFE IST KRIEG, available in digital or limited double tape with art from the kvlt Warhead art. Over 3 hours ov the darkest, livliest, vilest, beautiful and krushing kvlt sounds.
Feauturing the premiere talents ov the following Clan regulars, legends and some new blood… Autumns, TWINS, Penelopes Fiance, DJ LOSER, Da Goblinn, JT Whitfield, Bergsonist, Punky Jones, Tara In Tibet, Supahuman & Nattymari, Pull Rank, Ritualz, Mater Suspiria Vision, DJ Speedsick, CBN, Verset Zero, Burnt Hair, Bestial Mouths, Marshall Applewhite, Child Of Night, LFDM, Huren, Curt Crackarach, Anton Maiovvi, Sean Pirece, NRVVS, Ian Hicks, Baglover, Bogdan Drazic, Burial Hex, Ludgate Squatter, DJ Sludge, Mchy I Prorosty, Striborg, Morah, Deflector, Madrelarva, Dionysian Rituals, Opium Grave, Private Service, DJ Ghettoscraper, SA Bruxa.